Scrap Cars For Cash has been collecting scrap and salvage cars in Scotland for over 10 years now. We are very well networked in this area and as a result pay the best prices for any vehicle.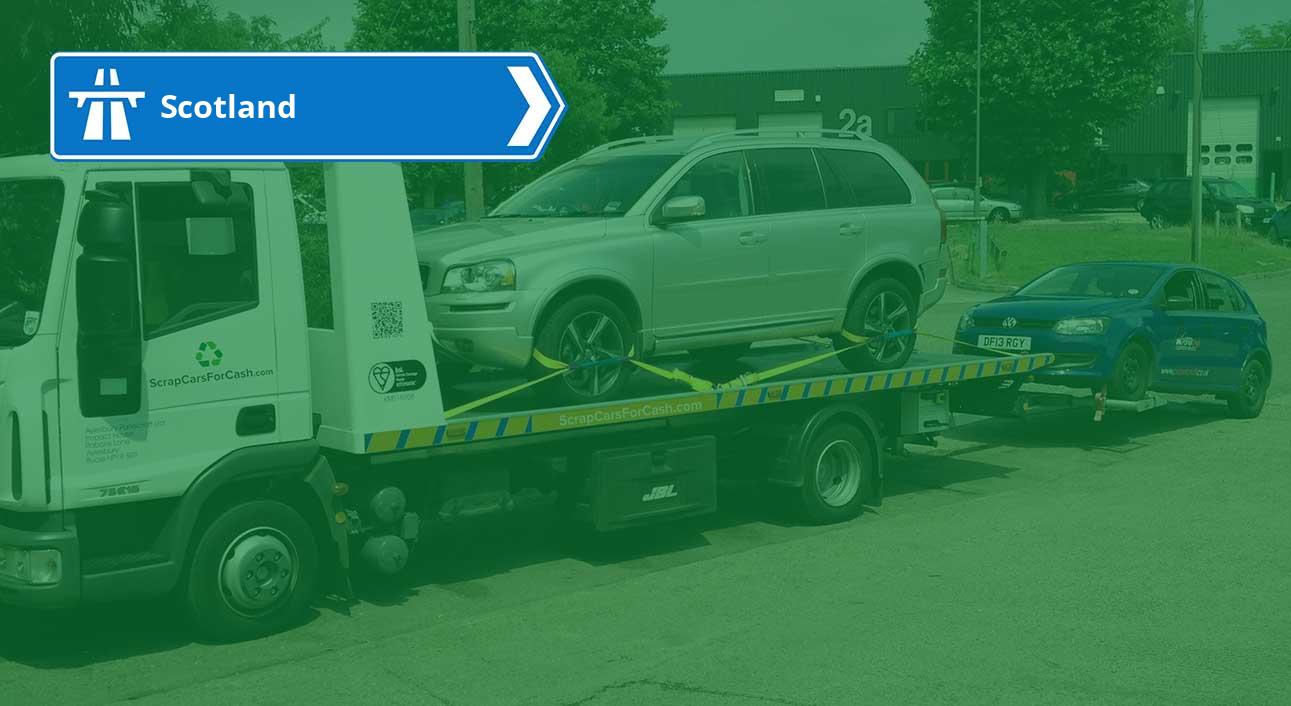 Scrap Cars For Cash in Scotland
Many companies in the area are known for collecting motors without filling in the appropriate paperwork or trying to reduce the agreed price on collection. We will never do this and pride ourselves on offering the easiest, most legally correct and best service in the area. You can be sure that you will not only receive the full amount quote on the phone, you will also benefit from our complimentary free collection service. This results in a smooth and efficient way to dispose of your vehicle – and get paid a great price for it.
Using Scrap Cars For Cash's network of Authorised Treatment Facilities (ATFs), you're guaranteed to get a fair price when selling your car as scrap or salvage, and we'll even come and collect it direct from your driveway absolutely free.
We will help with all DVLA paperwork to make your experience is as stress free as possible. So give our staff a call to discuss the collection. From this point we will be able to help you make the best plan of action to suit your needs. Our 'scrap my car' team will give you the reassurance that you are getting the best scrap car prices in Leicester and free scrap car collection.
Hassle Free Scrap Car Services In Scotland
Call us or fill in our online form for a free, instant, no-obligation quote. Our customer service team are waiting to help you if you prefer to talk on the phone. With years of experience through Scotland and northern territories, you can be sure we'll make everything as easy as possible. No hassle, no price negotiation (tyre-kicking), no worries. Get in touch with our team today by calling 08443 761 020.
Scottish Areas We Serve
It doesn't matter where you are in the UK, Scrap Cars For Cash will be able to help you sell your car. We've listed some of the locations we regularly serve in Scotland below.
Scrap your Vehicle in Scotland
If you're looking to scrap your car in Scotland, we can help! It doesn't matter the size, age, condition, make or model of your car – our knowledgeable team can assist in ensuring you get the best price possible for your old motor. The same is true for if you're looking to scrap your van or scrap your truck. We can help you to get the most competitive price for scrapping any vehicle. A new government scrappage scheme is currently being trialed in Scotland and we recommend checking out the page to see if you could be eligible to take part.
FAQs
We know that scrapping a car, or selling it for salvage, can be a difficult decision to make – after all, it's not a decision that can be reversed if you change your mind! If you want some peace of mind or there's some burning questions you feel would help you come to a decision, then be sure to visit our useful list of frequently asked questions.
Where can I scrap my car in Scotland?
Through Scrap Cars for Cash, it's so easy to find the best place to scrap a car near you. It doesn't matter if you're in Edinburgh, Inverness or further afield, we can find a vehicle scrap yard to secure you the best price.
How much to scrap my car in Scotland?
It's 100% free to scrap your car with Scrap Cars for Cash. The other question we get asked, is how much will I make from scrapping my car? The simple answer is that this depends on the going rate for scrap value. The price is mostly determined by the weight of the car, but other factors like the make and model of the car can also play a part in the final price.
How can I scrap my car in Scotland?
To get started, pop your reg number and postcode into the form for an instant quote. We'll then take you through the steps and paperwork. When you're ready to wave goodbye to your motor, we offer free collection too.
About Us
We at Scrap Cars for Cash have been serving customers in Scotland and the wider UK since 2010, and you can find out more about what we do and how we work on our About Us page.