The UK's Best Scrap Car Prices
With over a million of our cars being stripped down and crushed every year, it's fair to say that the scrap car industry is competitive. Scrap car valuation fluctuates from day to day, meaning that those without their finger on the pulse may end up short changed – that goes for both scrap dealers and customers. Combine this with the huge number of scrap yards around the country clamouring for your business and a competitive industry becomes a very confusing one, too.
Scrap Cars For Cash aims to simplify the process of selling your car as scrap by doing all the hard work for you. That includes gathering up the best quotes that the scrap market can offer based on up-to-the-minute value trends. We'll find unbeatable offers from our registered buyers, who are all part of our vast network of Authorised Treatment Facilities (ATFs). In fact, we work alongside enough scrap dealers to collect the best prices for scrap cars from ATFs in even the most remote of locations.
On this page:
How Can Companies That Offer Great Deals Be Disreputable?
The unfortunate news is that this can occur very easily, with our industry having attracted a less-than-stellar reputation over the years. Whilst there are many companies out there that can offer you great deals, there are far fewer that will stick to that agreement when their driver comes to collect your vehicle. There are, in fact, many stories of prospective customers being quoted one tempting value by a scammer, only for it to be reduced by way of prohibitive extra fees at the collection stage.
These companies lure you in by quoting you an inflated and unrealistic scrap car valuation in the first place, before taking advantage of your desperation to get rid of your vehicle when they do finally arrive to collect it. So, how can you be sure of great deals that don't come with a nasty drawback or two?
The more reputable operators, like ourselves, are perfectly transparent as to how we arrive at our scrap car valuation. In our case, we gather all of the details about your car before ascertaining an appropriate quote that is firmly based on the present state of the market. We book a time when your car will definitely be collected, pay you on collection and provide you with a receipt for the transaction. Our vehicle recovery service is free of charge, so you can be sure of how much money you are truly pocketing from the sale of your vehicle to us.
When we give you a quote on the phone or via email – that is guaranteed to be the amount we pay. There are many factors that affect scrap car prices and that may have a significant impact in future. So, why miss the opportunity to get in touch and take advantage of the presently very healthy scrap car prices that we can offer?
How Are Scrap Cars Valued?
There are many factors that have an impact on the scrap value of your car, but the most significant of all is the weight of the vehicle. Bear in mind that whilst you are selling a car, it's not likely to remain as a car for much longer. In fact, unless a car can be used as salvage, it will be crushed and recycled. Because you're essentially selling scrap metal, the best way to value the vehicle is by its weight. The bigger and heavier the car, the more metal the dealer will be getting at the end of the process.
Don't be put off by this if you drive a small hatchback, though. Selling your unwanted motor as scrap will still make you a tidy sum of money. This method of valuation is used worldwide, so we can guarantee that we'll find you a better price than anywhere else in the UK.
How Much is My Car Worth for Scrap?
Prices for scrap cars change depending on how much it weighs, and can also vary month-to-month. How much scrap cars are worth has steadily since May 2022. The price between low and high makes it even more important to choose a scrap car valuation operator that you can trust.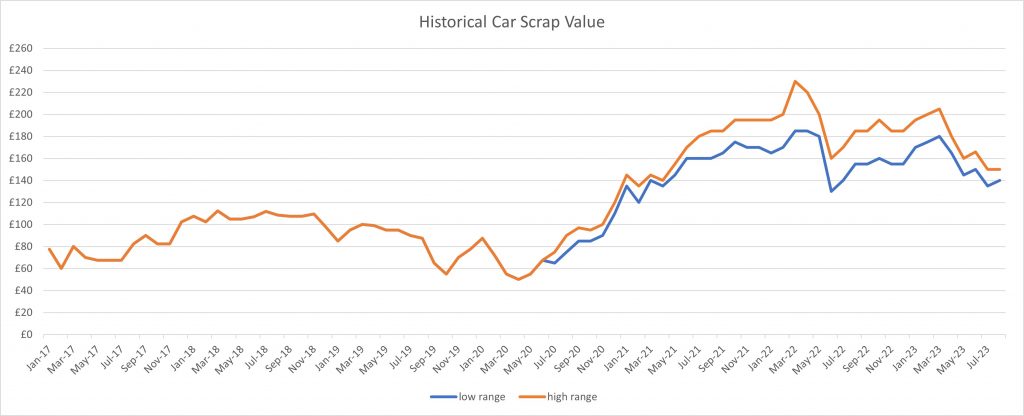 | Month / Year | Car Scrap value Per Tonne (£) |
| --- | --- |
| August 2023 | £140-150 |
| July 2023 | £135-150 |
| June 2023 | £150-165 |
| May 2023 | £145-160 |
| April 2023 | £165-180 |
| March 2023 | £180-205 |
| February 2023 | £175-200 |
| January 2023 | £170-195 |
| December 2022 | £155-185 |
| November 2022 | £155-185 |
| October 2022 | £160-195 |
| September 2022 | £155-185 |
| August 2022 | £155-185 |
| July 2022 | £140-170 |
| June 2022 | £130-160 |
| May 2022 | £180-200 |
Car Scrap value per tonne since May 2022
Will the Make & Model of My Car Affect My Quoted Price?
While the size of the car plays the biggest role in dictating the price you'll be offered to sell it, the make and model of your vehicle will have an impact. This is typically in the same way that it would impact the cost of a new, working vehicle on a dealership forecourt. A more expensive car is likely to still be worth more to a scrap buyer than a budget motor.
Similarly, older models may fetch less as scrap than newer ones, not just because of their age but also due to the technology found in them. Modern car tech and appliances will be more in-demand and can be transplanted into other cars that need them.
Absolutely not. With Scrap Cars For Cash, the price you're quoted is the price you receive. No ifs or buts from us. Better still, our fleet of collection vehicles spans the length and breadth of the nation, so no matter where you are, you can arrange the collection of your scrap-bound car at a time to suit you at no extra cost. The collectors will never attempt to renegotiate the price that you accepted, provided that the car is as you described during the initial quotation.
So, find out how much your car could be worth as scrap and sell with Scrap Cars For Cash. Get a quote online at ScrapCars-ForCash.com or call 08443 761 020 and speak to our sales team today!