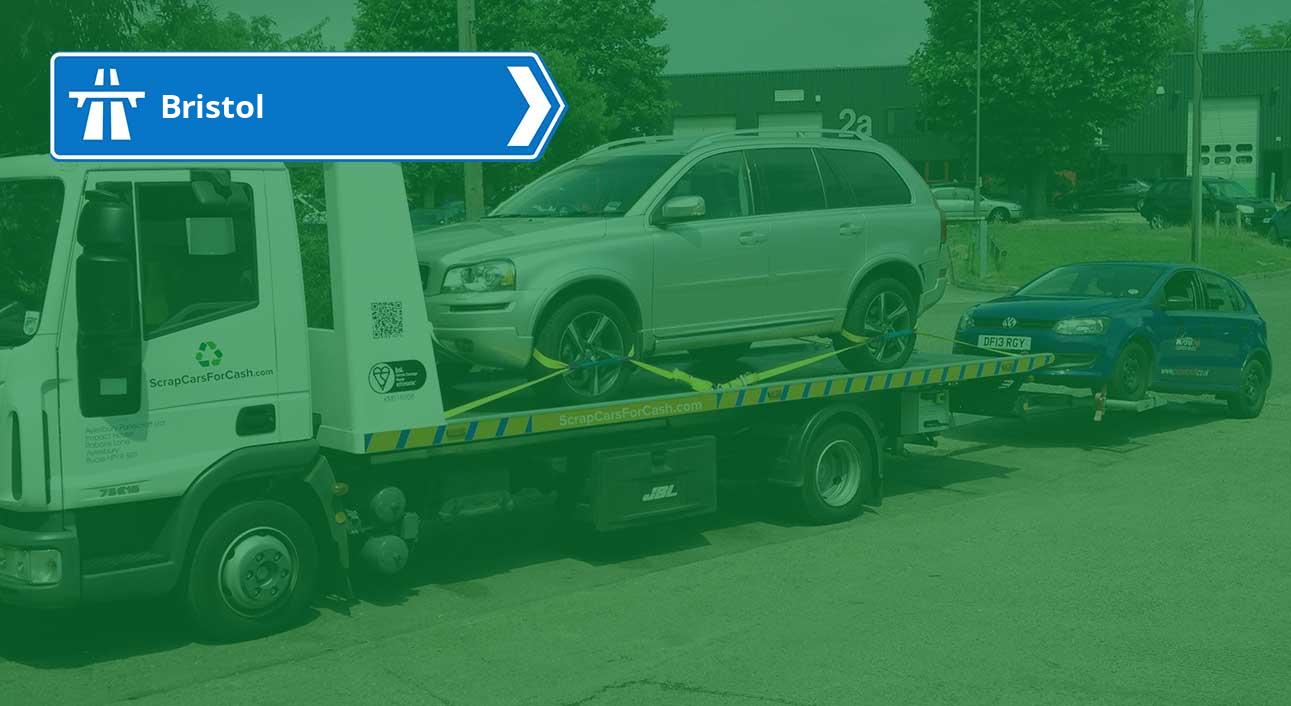 Do you need a scrap or salvage vehicle collected? Our experts will come to you. The Scrap Cars for Cash team covers Bristol, Bristol County and the whole of Britain. We also aim to use auto scrap yards (ATFs) within this area.
Whether you need rid of a scrappage car in Kingswood, a vehicle with an alternator fault in Mangotsfield, or need a damage vehicle removed in Yate; enter the details of the vehicle above and one of our expert collectors will come and collect it – and pay you a great price for it. We also work only with approved auto junk yards, who adhere to end of life vehicle (ELV) guidelines that are monitored by the Environment Agency.
Over the last year we've collected over 1756 scrap cars and 793 salvage cars in Bristol and nearby; including Kingswood, Mangotsfield, Yate, Chipping Sodbury, Clevedon, Bath and Mendip. The most common models we collected are the Ford Ka, the Volkswagen Golf and the Vauxhall Zafira.
Local collections in figures:
Completed 2549 collections in and around Bristol
Recycled over 1756 scrap vehicles
Collected over 793 salvage vehicles
The most common vehicle collected was the Ford Ka
Driver phoned me an hour before and arrived bang on the dot, car was gone in 5 minutes and no change of price. Thank you, very happy and can't fault you.
Scrap a car in the Bristol Area
You can be safe in the knowledge that all the appropriate paper work is filled out for the DVLA and that you are receiving the best price possible for your vehicle.
So you're thinking where can I 'scrap my car' – We offer fully insured and licensed drivers to come and collect your scrap car at a time convenient to you!
We also serve St Augustine's, Clifton Wood, Broadmead, Red Cliffe and fellow surrounding areas. With a wide selection of collection agents, we always use recycling facilities recommended by the Environmental agency. We also use local drivers, this helps to keep our carbon foot print as low as possible.
We consider customer service to be of the highest importance, not only so we offer the best prices, but we provide fast and efficient service, friendly drivers and a convenient and fully legal service. Why wait any longer to remove your unwanted motor? Call our Bristol office team today. You will find the staff helpful and friendly and they will give the highest price possible.
Avoid Cowboy Car Collectors
We offer a service which is professional, legal and customer satisfaction is at the top of our priority list. There are however numerous scrap car companies out there, who operate illegally, take advantage of customers and in some cases actually steal vehicles without paying for them. Don't fall victim to such scammers; call us today for a free no obligation quote. We will ask you a number of questions to ascertain the true value of your Scrap Car. Once we have established a price we will ask if you wish to accept the offer. We will never quote you before finding out the true value of your vehicle. We have no hidden fees or catches.
General Information on the local area
Bristol city was recently named European City of the Year thanks to its ancient forests, beautiful countryside, exciting nightlife and picturesque coastlines. Bristol is renowned for its yearly activities and events, from kite competitions, sailing, music festivals and hot air ballooning, making for an extremely pleasant day trip or overnight stays. Large influx in tourism has meant an increase in cars, and other vehicles in the area. So to sum up if you are thinking of a day trip to Bristol but have concerns about the state of your car, travel with the knowledge and comfort that we are a phone call away. You may be a resident or just driving through, whatever your situation, whatever your vehicle, let us know if we can be off assistance to you. All we ask off you is to phone our friendly helpdesk giving all the necessary information. We will arrange the best time suited to you and take care of the rest. It really couldn't be simpler! Call today if you're wondering "How do I scrap my car for cash in Bristol?"
Scrap your Vehicle in Bristol
If you're looking to scrap your car in Bristol, we can help! It doesn't matter the size, age, condition, make or model of your car – our knowledgeable team can assist in ensuring you get the best price possible for your old motor. The same is true for if you're looking to scrap your van or scrap your truck. We can help you to get the most competitive price for scrapping any vehicle.
FAQs
Where can I scrap my car in Bristol?
Through Scrap Cars for Cash, it's so easy to find the best place to scrap a car near you. It doesn't matter if you're in Redland, Avonmouth or further afield, we can find a vehicle scrap yard to secure you the best price.
How much to scrap my car in Bristol?
It's 100% free to scrap your car with Scrap Cars for Cash. The other question we get asked, is how much will I make from scrapping my car? The simple answer is that this depends on the going rate for scrap value. The price is mostly determined by the weight of the car, but other factors like the make and model of the car can also play a part in the final price.
How can I scrap my car in Bristol?
To get started, pop your reg number and postcode into the form for an instant quote. We'll then take you through the steps and paperwork. When you're ready to wave goodbye to your motor, we offer free collection too.