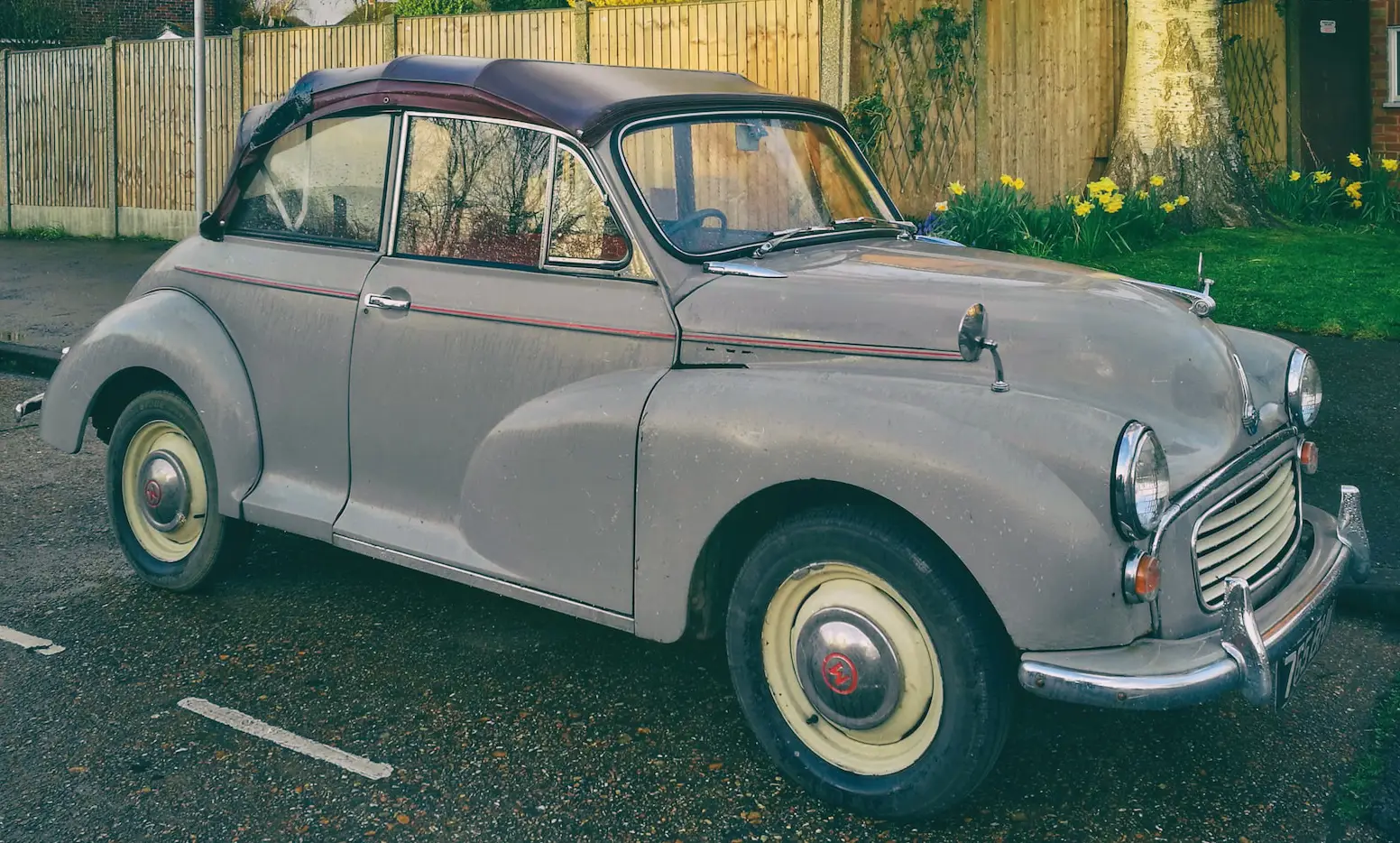 After creating some of the most iconic motors to come out of the British industry, Morris eventually succumbed to its fate and production was permanently halted. But as we mentioned, before their demise, they were able to put out some cars that have gone on to become genuine classics – with many of them still on the road.
So what happens if your classic car's life comes to an end? Morris drivers are probably very attached to their old cars, but it's inevitable that one day it'll all come crashing down, in some cases literally. Accidents can strike any time and wear and tear will undoubtedly have damaged even the best looked-after Morris vehicles, but when the time comes, Scrap Cars For Cash can get you the best price to sell it as scrap or salvage.
Reasons Morrises Are Scrapped
It's fair to say that Morris motors are getting on a bit, so all of the reasons that we see other cars coming to us are likely to be exacerbated. Accident damage is one such reason, with these older cars perhaps not holding up so well when they're struck by a modern day car (which these days, is likely to be some kind of hefty 4×4). Once again due to the Morris's age, replacement parts including panels and other bodywork pieces will be hard to get hold of, so it's likely that any accident will render your car a write off. If this happens, scrapping is probably the best option from a financial standpoint.
Wear and tear is also something that no car can avoid, but due to the grand old age of Morrises, they will have suffered for far longer than even the average car that arrives at one of our scrapyards. On average, cars are 14 years old at the time of scrapping. Morrises are sure to have outdone that by some distance. If your Morris is starting to depreciate, then first of all, you've done well to keep it in good nick for this long! Secondly, it may be time to think about selling it as scrap with Scrap Cars For Cash.
Scrap Morris Value
The scrap value of a Morris is determined in the same way as that of any other car. The most influential factor is the car's weight, with heavier motors giving you a higher base figure for your scrapping quotes. That's because bigger cars are made from more metal, which is ultimately what the scrap deals are interested in. At Scrap Cars For Cash, we keep our eyes on the fluctuating scrap metal market to ensure you're always getting the best deals for your old cars.
Other factors have an impact on the valuation of your Morris too, like the age, mileage and overall condition. Naturally, age may not be on your car's side but if the other conditions are favourable, your Morris may be worth a pretty penny as salvage. We can still help you sell your car if you think it's salvageable!
Most Scrapped Morrises
Having gone over the facts and figures for all Morrises that we've seen recently, it's hardly surprising to see the Minor at the top of the charts – you ask for a word association with Morris, most of the times people will say Minor, and with nearly two thirds of the Morris contingent being Minors, the numbers back that theory up substantially. The remainder of the numbers are filled with the cars you'd expect to see, although Mini fans look away now, as we had to say goodbye to some of the earliest examples of the British icon.
| | |
| --- | --- |
| Model | % of all Morrises scrapped |
| Minor | 64.44 |
| Ital | 15.56 |
| Marina | 8.89 |
| Mini | 8.89 |
| Princess | 2.22 |
While modern cars are often Black or Silver, it's a sign of the times as there's a much greater palette of colours in our stats this time around. Blue takes the top spot, making up just under a quarter of all the Morrises we saw, but rather surprisingly – and uninspiringly – beige took the second spot, ahead of the more common black, white and red.
| | |
| --- | --- |
| Colour | % of all Morrises scrapped |
| Blue | 24.24 |
| Beige | 15.15 |
| Black | 12.12 |
| White | 12.12 |
| Red | 9.09 |
| Brown | 9.09 |
| Green | 9.09 |
| Grey | 6.06 |
| Bronze | 3.03 |
Unfortunately, despite spare parts being in a dwindling supply, unless the cars are in tip-top condition, the value of any Morris coming through our books is likely to warrant being sent straight to the crusher, and with just over 60% of all Morris-badged cars being scrapped, the figures back this hypothesis.
| | |
| --- | --- |
| Method | % of all Morrises |
| Scrap | 62 |
| Salvage | 38 |
If your Morris has finally given out on you, sell it as scrap or salvage with Scrap Cars For Cash. Our sales process takes just days to complete, meaning you'll have the money in your bank before you've even decided what to spend it on. Better still, we'll arrange collection for free, no matter where you are in the country. So, give our team a call on 08443 761 020 or fill in the digital valuation form above to get quotes for your Morris and find out how much you could sell it for with Scrap Cars For Cash.