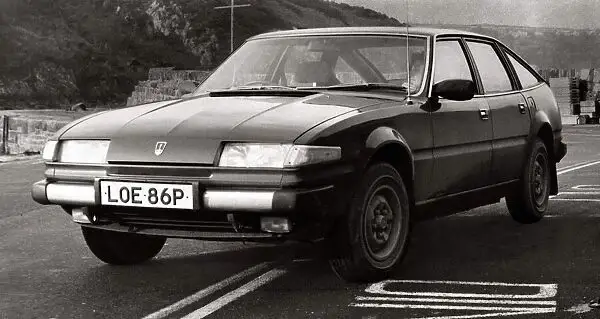 Hailing from the industrial West Midlands, Rover is currently inactive despite being one of the nation's best-known car brands once upon a time. Everything from hatchbacks to estates came out of the Birmingham-based factory, including Minis bearing the manufacturer's name.
But, now they're starting to age and with that comes deterioration that can only lead to scrapping somewhere down the road. When that time comes, Scrap Cars For Cash can get you the best price for your old Rover to make sure you get some money back after all the years of hard work your motor gave you.
Reasons Rovers Are Scrapped
There are a multitude of reasons that Rover cars are scrapped, but none of them is exclusive to the brand. Accident damage brings in big business for scrap dealers, with many cars unable to be fully repaired post-crash with the costs exceeding the value of the motor itself. If this happens, sending your Rover on a trip to the scrap yard can earn you some cash, rather than see you spending plenty.
Wear and tear damage is sure to be a common reason for Rovers to be scrapped. With no new cars being produced for close to two decades, it's not just possible for Rovers to start wearing down, but expected. The average age of a scrap car is 14 years old. The last Rover was built in 2005… We'll let you do the maths. If your Rover is showing signs of age, Scrap Cars For Cash could be the answer, letting you make some money from its demise.
Scrap Rover Value
The value of any scrap car can go up and down on a regular basis thanks to the ever-changing market price of scrap metal. A vehicle's weight has the biggest impact on how much it's worth, with heavier cars being worth more due to the sheer amount of metal that can be gathered from it. We monitor the price of metal to make sure we're always getting the top deals for our customers.
Age, mileage and the overall condition of your Rover will also influence the final scrap value you're quoted, with cars in better nick likely to have retained more salvageable parts that could even bump the worth of a smaller car higher than that of a larger one. Scrap Cars For Cash can help you sell your car as salvage too if you believe it's not ready for the crusher just yet.
Most Scrapped Rovers
At Scrap Cars For Cash, we've looked back through our figures to find out which Rovers were scrapped the most over the past six months. The 75 takes the crown, accounting for 37% of all Rovers scrapped, with the 25 in second place. The 45 is in third before the naming conventions start to differentiate slightly.
| | |
| --- | --- |
| Model | % of all Rovers Scrapped |
| 75 | 37.19 |
| 25 | 23.84 |
| 45 | 13.66 |
| 200 | 8.12 |
| 400 | 4.93 |
| 600 | 3.03 |
| Streetwise | 2.79 |
| 100 | 1.45 |
| 800 | 1.28 |
| Other | 3.71 |
A whole quarter of Rovers scrapped over the past six months were blue, which narrowly beat usual top dog silver, which itself made up almost 22% of the total. Red was popular but only made it into third. Surprisingly, only 2% of all scrapped Rovers were black.
| | |
| --- | --- |
| Colour | % of all Rovers Scrapped |
| Blue | 25.82 |
| Silver | 21.89 |
| Red | 17.97 |
| Green | 14.01 |
| Gold | 9.33 |
| Grey | 5.5 |
| White | 2.52 |
| Black | 2.34 |
| Purple | 0.26 |
| Other | 0.36 |
Almost a perfect score for salvaging next, with 99% of all Rovers on our book being stripped for parts rather than scrapped outright. That one per cent that was immediately crushed? Those cars won't go to waste. Legislation in place means that at least 95% of the total mass of vehicles that are scrapped must be recycled.
| | |
| --- | --- |
| Disposal Method | % of all Rovers Scrapped or Salvaged |
| Salvage | 99 |
| Scrap | 1 |
If your Rover's days are over, sell your car with Scrap Cars For Cash. We'll find you the best deals and you can have your car sold and cash in the bank in just a few days. We'll even collect your motor at no extra cost to you from anywhere in the country. Just call our sales team on 08443 761 020 or complete the online valuation form above and find out what your Rover could be worth as scrap or salvage today!