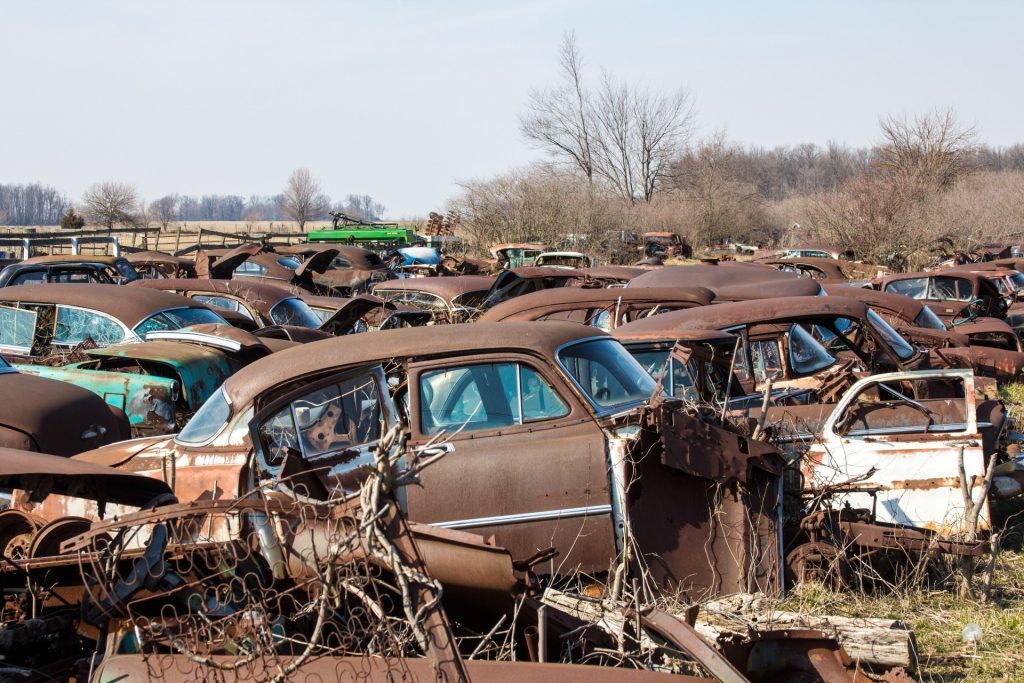 Are you thinking of scrapping your tired, broken old car? You're not alone. There are a wide range of reasons that lead people to Scrap Cars For Cash to get the best price for their old car. Let us guide you through some of the more common reasons we see on a regular basis.
If you've already decided that scrapping is the right decision for you, then why wait? Simply pick up the phone and dial 08443 761 020 to get a quote from one of our friendly advisors. Alternatively, you could use our quote generator, where with just your postcode and registration number we'll find the very best price for you in as little as 60 seconds. What's more, we'll even arrange a free collection from a location convenient to you, making the entire process totally hassle free.
Repairs Cost More
One of the most common reasons cars get scrapped is because they have so much damage that repairing them just isn't an option open to you. While you grow to expect heavy outgoings at least once a year with your car's services, you might not be prepared to drop a similar chunk of cash, or even more, should something go horribly wrong. If repairing your car just isn't an option, then scrapping or salvaging absolutely is. No car is too badly damaged for the Scrap Cars For Cash team, and our nationwide network of specialists will be able to guarantee you the very best price no matter what.
Car Written Off
When insurers deem a car a write off, the vast majority of people tend to just accept that fate, believing there's nothing you can do – well, there is. Insurers will usually write off your car if the cost to repair it exceeds more than 75% of its 'Pre-Accident Value', or PAV. You may have the means to repair the car yourself, or perhaps you know someone who'll be able to help you get the car back running again, meaning you could still make some money off the car by buying it back at an agreed value with the insurer, repairing it and selling it on again. Alternatively, you might find that the car has a higher scrap or salvage value than the figure your insurers are quoting you, in which case you could buy it back and sell it on through Scrap Cars For Cash, making profit along the way.
Getting Rid Of It
Sometimes you just don't have a use for your car anymore, and for whatever reason that is, Scrap Cars For Cash is on hand to make that decision as easy as possible for you. Perhaps you have bad memories of your old car and just like the idea of knowing it's going to be crushed. No matter the reason for wanting to get rid of it, if you want to do it, getting it scrapped with Scrap Cars For Cash is a surefire way of guaranteeing you do so with the best price and in the quickest way.
Not Worth Enough To Sell
If you've decided that you finally need to change cars, having dragged your tired old hatchback around for a few thousand miles too many, then you might be in for a shock when you try to list it for sale on the used car market. Is it really going to be worth all that time and effort to sell something that's going to get you a measly sum? Probably not. That's where scrapping comes in – all you do is tell us the registration number and your postcode and we find the best price available to you. Easy, right? No worrying about someone coming to find it and explaining the nuances that make it lovable to own, just one phone call is all it takes to get the best price with us.
You Don't Need A Car Anymore
As the world modernises and more and more people enter remote working environments, or simply as people retire and no longer need two cars in their household, the need for a car begins to dwindle. If you've got to the point where your car just isn't worth owning anymore – the upkeep isn't cheap, for starters – then why not just get rid of it? No matter the condition, no matter the age, we'll find you the very best price for your old car, in next to no time at all.
Car Fuel Isn't Efficient
As cars age and suffer that old malady known as 'wear-and-tear', things start losing their efficiency and there's nothing worse than needing to fill up more at a time when fuel is ridiculously expensive. Age isn't reversible, so chances are no-one else is going to want to chance their arm either. By scrapping your old car you're removing the problem and getting yourself a nice deposit to put down on something a little more reliable.
Hassle Free
Selling cars is not an easy game – there's a reason the best salespeople get paid the big bucks. If you've got a mildly dodgy set of wheels that you're trying to sell, do you really want to be going through the hassle of trying to explain to someone why it's a good buy? Likewise, you're not likely to be getting a sale very quickly, as you wait for people to come and view the car in their own time, before going away and making a decision. If it's a broken car, then you've also got the issue of arranging with your buyer how the car will get to them. With Scrap Cars For Cash, none of that is an issue. Almost every sale will be completed within a matter of days, and we'll even come and get the car from a location of your choosing, absolutely free.
Parts Are Missing From The Car
If you've broken your car but don't have the part to replace it, or simply can't afford to get it fixed, then you're going to have a tough time selling it. Whatever value it did have has just flown out of the window. With Scrap Cars For Cash, we don't mind how much is missing from the car, we'll still find you the very best price possible for it.
Whatever the reason you've found for scrapping your car, all you need to do to find your best price is to either call 08443 761 020 or use our quote generator at the top of this page, and you'll be given your best price in as little as 60 seconds.