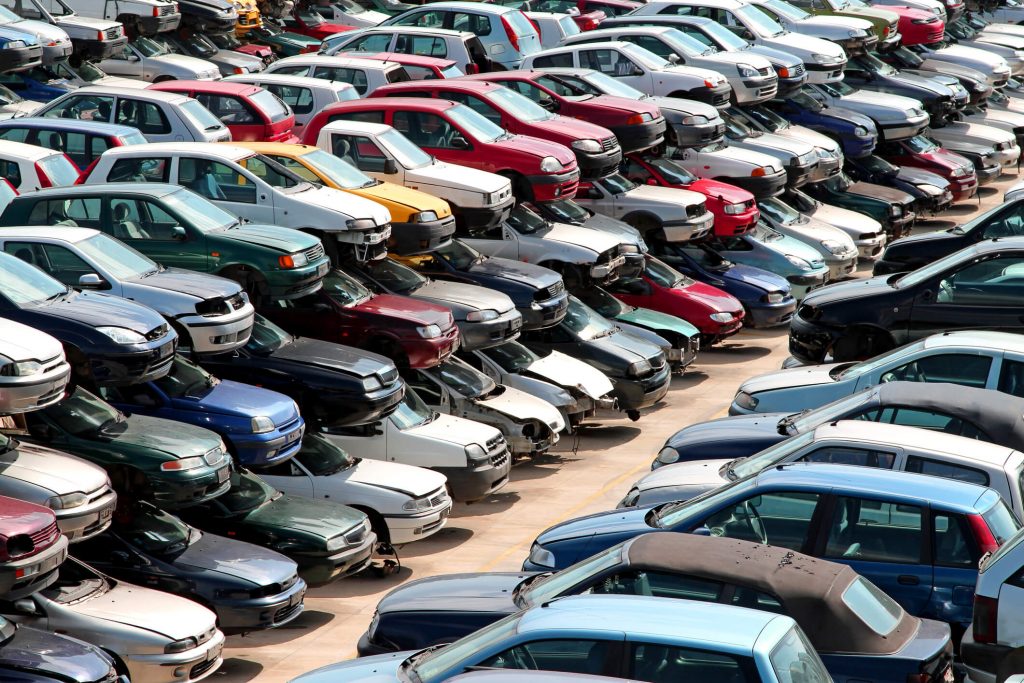 Most people will approach a business with some idea of how it works, especially if it means they're going to be parting with their cash or some other highly-prized asset. However, the same can't always be said for the scrap and salvage business, with some car owners perhaps being put off by a lack of experience (after all, most of us won't scrap many cars in our lifetime), a wariness of being ripped-off, or simply a reluctance to go through the hassle of selling your vehicle. If you're one of those drivers who owns a car that's ready for the scrap heap, allow Scrap Cars For Cash to explain just how this industry works.
Or jump straight into it with us here at Scrap Cars For Cash, where we've simplified the process as much as possible, making it as little work as possible for our customers! By giving us a call on 08443 761 020 or by entering your postcode and vehicle registration into the form above, we can give you a price for your old car in less than 60 seconds. Our network spans the whole of the UK, meaning that we can scrap your car no matter where you are, and we'll even collect it absolutely free of charge. All you need to do is accept an offer, then hand over the keys on collection day!
Scrap Metal Dealers Act
Prior to 2013, the world of car scrapping was far less regulated. It was entirely possible to take a car – any car – to a scrap yard and sell it for physical cash, there and then, with no (or few) questions asked, before pocketing the earnings and disappearing without a trace. Hopefully, you're already starting to understand why this was changed.
Before the Act's introduction, it was extremely easy for thieves to steal a car and sell it, with nothing to lead the act back to the criminal. Once the car was crushed down, trying to identify it – if the police could even trace it that far – was nearly impossible. So, in 2013, the Scrap Metal Dealers Act was written up to prevent those who operate scrap yards from buying old vehicles with cash. From then on, direct bank transfer was the preferred method of payment, and since Scrap Cars For Cash only works with registered ATFs (Authorised Treatment Facilities) this is the way you'll be paid if you choose to sell your car with us.
The Depollution Process
When selling your car as scrap, you don't need to worry about removing any fuel or oil from inside of it. In fact, particularly when it comes to petrol or diesel, we'd strongly advise you to leave it to the professionals who will be disposing of your car. It can be very dangerous since the liquids you'd be dealing with are harmful when handled incorrectly.
All of the ATFs that we partner with are trained and equipped to 'depollute' your car, which entails removing the oil and fuel in a safe manner for both the people around it and the wider environment. Using specialised equipment in a safe location, any oils and fuel will be extracted from the vehicle's reservoirs and tanks, but unfortunately they will have to be assumed to be contaminated. While this does mean that they cannot be used as-is, poured directly into another vehicle, they can and will be recycled and put to good use in other ways. For example, the oil extracted from your vehicle's engine can be broken down and used to fuel container ships! Legal regulations state that a minimum of 95% of the sheer mass of a car must be recycled, a ruling that we abide by with every single vehicle.
Certificate of Destruction
After your car has been scrapped, the ATF that's been dealing with it will issue you with one more document: a Certificate of Destruction (CoD). This paperwork is important for you as the last owner of the car, as it shows the DVLA that the vehicle has definitely been scrapped and not only is it no longer on the road, it's no longer in your possession.
We hope that this quick guide to the scrapping industry has eased any concerns or confusion you may have had about how disposing of your car works. Scrap Cars For Cash will find you the highest offer from scrap dealers in your local area, and we even include the collection of the car or van at no extra charge, UK-wide. Get a quote today by calling 08443 761 020 or by filling in the digital form above and you could have a price for your car in a matter of seconds!