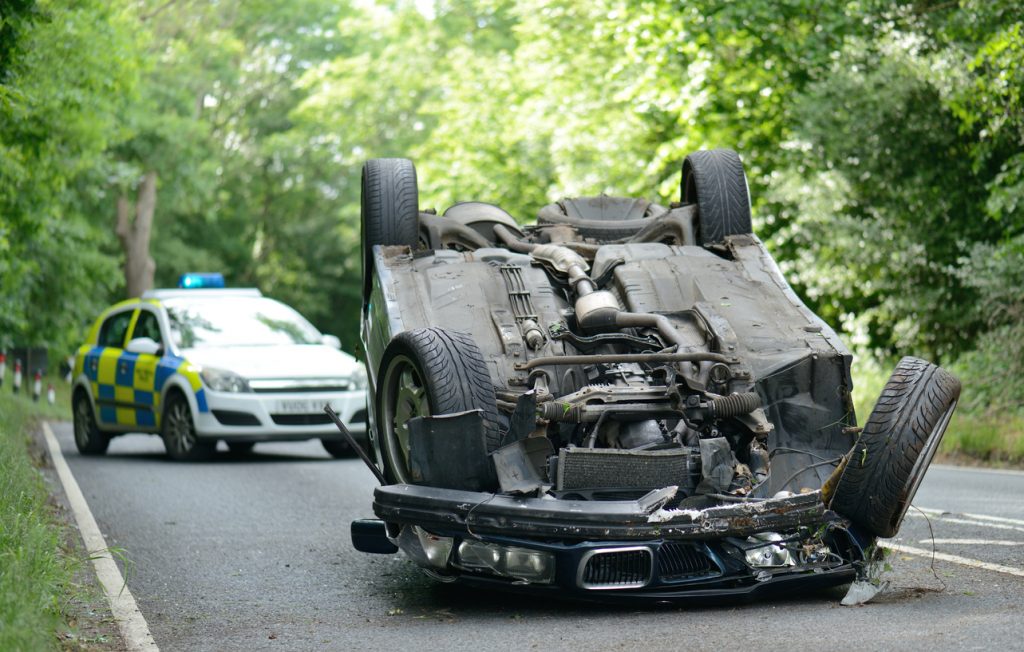 After an accident, you're most likely going to have to go through your insurance company to get any damage repaired. While it's not a legal requirement to do so (although remember, it is mandatory to be insured) this is what you pay your insurance company for, so unless the damage is minor and cheap to fix, it makes sense to let them do the work for you.
But, if the collision has caused significant damage that's going to prove costly to repair, there's a good chance that your car or van might be written-off. If that's the case, it will be placed into one of four categories – A, B, S or N. Here, we're going to focus on Category S and explain what kind of damage results in your car gaining this classification.
Thinking of scrapping your car due to damage, whether it's written off or not? Or perhaps your tired old van is past the point of being efficient, and it's time to cash in on it to raise funds for a new workhorse? Scrap Cars For Cash will find you the best price for your old vehicle, allowing you to sell it as scrap or salvage with the whole process taking just a few days. We work with professional scrap and salvage buyers UK-wide, meaning we'll have a local Authorised Treatment Facility (ATF) on our books that's close enough to collect your car. This collection service, by the way, won't cost you a penny! It's completely free, no matter where you live. Get a quote for your motor today by calling 08443 761 020 or entering your details into our online form.
Common Causes Of Cat S Damage
Category S damage is quite severe, with the S standing for 'Structural'. This means that the vehicle has been involved in a collision of some sort that has damaged the chassis, pillars or other structural components of the car.
A small bump in traffic, like a "fender bender" as they call them over in the States, is unlikely to cause category S damage, but a more significant accident certainly could. If your vehicle has been hit from the side, there's a chance that it's chassis has been whacked out of shape or, worse still, if it's rolled over, the structural integrity of the car will almost certainly be undone.
Your insurance company will brandish your vehicle with this category marking after they determine whether it can be repaired and, if so, how much it will cost to do so. While category S signals significant damage, A & B are actually far worse, but we'll delve into those in another post…
What To Do With A Cat S Damaged Vehicle
After your car or van has been given category S status, it's important to realise that it has this marking for the rest of its life. There is no way to remove it from its record. So, what can you do with a car that's suffered this fate?
You can fix it. Unlike category A & B cars which must be scrapped outright, Cat S cars are legally allowed to be repaired back to a roadworthy standard. If you want to fix your category S vehicle, then you can purchase it back from the insurance company and do with it as you please. Just remember that the reason it's been written off is not because it's unsafe to repair, but because it's too expensive to repair.
If fixing it up isn't feasible, though, you can buy it back from your insurance company if you're not happy with the financial figure they're offering you. From then on, you're able to scrap or salvage the car yourself for a higher price. This is where Scrap Cars For Cash can help you out. We're able to track down the highest price for your scrap or salvage car, offered by ATFs in your local area.
Should I Repair My Cat S Car?
If you're a skilled mechanic yourself, or you have a trusted friend or family member that would be willing to cut you a deal, it might be worth getting the car back in your hands. Don't forget that if you do fix up a car, it's illegal to try and sell it on without telling potential buyers of its insurance category branding – that's if you can find anyone that's interested. Salvage car buyers are few and far between, and usually only buy these cars for very low fees anyway!
It's a high risk situation for what could be a very, very low reward, so choosing to repair a Cat S car is not something that should be done on a whim. It's going to require lots of thought, effort and most importantly, money.
Should I Scrap My Cat S Car?
Scrapping it, or selling it as salvage, on the other hand, is a quick and painless process – at least, it is with Scrap Cars For Cash. Scrapping it solo would require you to call around to every scrap yard in the land to find the best price, plus you'd also have to arrange for the vehicle to be transported to them. That in itself can be a costly expense. With Scrap Cars For Cash, there is no such hassle. In less than 60 seconds, we can find you the best price from a local scrap or salvage buyer. Once we find you an offer for your vehicle that's higher than what your insurance company would pay, you're welcome to accept and arrange for the car or van to be collected from your home – or anywhere else, for that matter – at no extra cost. Our vehicle collection service is completely free for every customer.
If you've made up your mind and think selling your vehicle with Scrap Cars For Cash is how you'll get the most money for it, give us a call on 08443 761 020 or get a quote online via our website. We operate all across the UK and you'll get a top price plus free collection and the whole process, from quote to payment can be completed in a matter of days.