Many people, when purchasing a car, would only consider buying one that is ready to be driven away straight out of the dealership forecourt. Of course, there are exceptions to this rule, with others preferring to get themselves a bargain with a cheaper 'fixer upper' that they can put time and effort into instead of money. But what if the big problem looming over a particular car is a set of airbags that have gone off? Can this car be sold and if so, how? We're here to explain.
If your car has reached the end of its usable life and you want a quick, easy and profitable way to dispose of it, let Scrap Cars For Cash find a buyer who'll take it off your hands in a flash. With partnered scrap dealers all over the UK, we'll get you a great deal for your old motor whether you're in the countryside or the big city. We even provide a free car collection service, saving you the hassle of having to arrange transportation for your car. Call us on 08443 761 020 or enter your vehicle reg and postcode at the top of this page for a quote in seconds.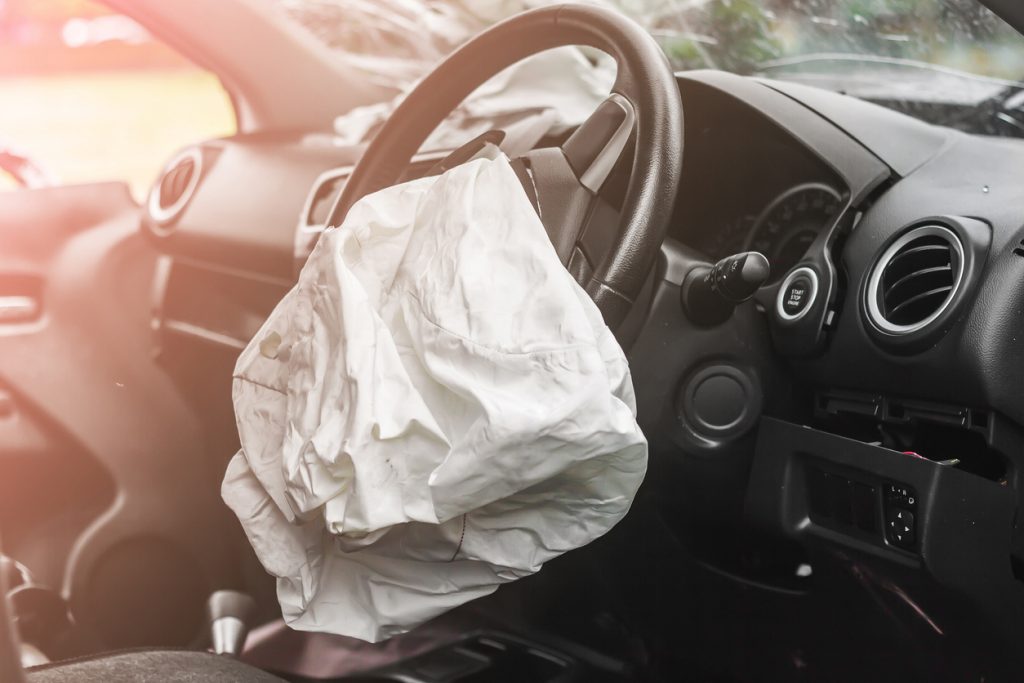 Can You Sell A Car With Deployed Airbags?
Selling a car with its airbags already deployed is totally legal, but you will have to expect to see far fewer private buyers showing interest. After all, most of them will want to spend their money on a vehicle that they can drive away, and safely at that. If the airbags have gone off, it'll take some effort and financial investment to get them removed and replaced – and that's if the car isn't automatically declared a write off because of it.
It's a common misconception that when a car's airbags deploy the vehicle is immediately a write off. While this is often the case, it's not true 100% of the time. If it's a high-end motor it'll probably be worthwhile replacing the airbags at a very steep cost, but if it's a less expensive make or model, the airbag replacement fees might outweigh the value of the car on the whole.  Being written off is one of many reasons that cars end up being scrapped.
Although there's nothing to stop you from selling your car after its airbags have gone off, it is wrong and incredibly dangerous to withhold this fact from a potential buyer in order to make the vehicle seem more appealing. If that car goes on to be involved in an accident in which its occupants suffer injuries due to the airbags not deploying (or even being present) then you could certainly find yourself in some seriously hot water.
Scrap Your Car In Any Condition
With Scrap Cars For Cash, you can sell your car as scrap in no time at all. We do the hard work for you, tracking down the best offers for your vehicle from scrap specialists in your local area no matter where you are in the UK. We'll also put you in touch with our collection agents so that you can arrange the free pickup of your scrap car or scrap van for a date and time that suits you. Give us a call on 08443 761 020 or enter your details above to get a quote today!
Deployed Airbags FAQs
There are many more questions to be answered about selling cars after their airbags have gone off. That's why we've put together the following list of FAQs.
Can a car be driven after airbags have deployed?
From a legal perspective, yes. A car can be driven even after an airbag has deployed, but bear in mind that these things are quite large and will cover a significant area of the vehicle's interior, most likely including the steering wheel. If you can't operate the steering wheel safely, don't drive the car until the airbags are removed. It is legal to drive a car with no airbag once the spent device has been taken out.
Can a car be fixed after airbags deploy?
Again, yes. However, many insurance companies will simply opt to write the vehicle off instead of paying out for the incredibly expensive repair work. This is usually the case when the cost of the repairs total more than the price of the car itself and the damage will lead to the vehicle being scrapped. If you're really attached to your motor though, it is indeed possible to fix it up.
Can airbags be replaced after an accident?
Airbags can be replaced after an accident, but the same rules as above apply. If the pricey procedure costs more than the value of the vehicle, then no insurance company will consider it worthwhile. They'll just write off the car instead. If you choose to replace the airbags yourself, it's crucial that you use parts that are reliably sourced (so you know they'll work) and that you know how to install them correctly.
How do I turn off the airbag light after an accident?
This is a sign that your airbag module needs resetting, which can be done at your local garage by a professional mechanic.